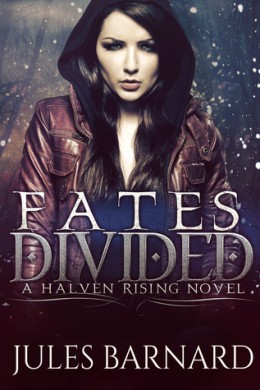 Elena Rosales has busted her ass to get into a good college. She's the only one in her family ever to attend, and expectations are high. No pressure. But Elena's got this one in the bag, because she's as dependable as the molecules she studies, as reliable as the chemical reactions that comfort her in their predictability. Until they don't.
Elena has always wondered why her mother abandoned her on her first birthday. It's not until she turns eighteen and her chemistry experiments go berserk that she learns the truth: Her mother wasn't human, and the Fae are willing to harm those Elena loves if she doesn't use her power over the elements to cure them of a deadly disease. Derek, Elena's brooding neighbor, isn't the friendliest guy, but he has access to an off-hours lab and is willing to help Elena create the antivirus. He has his own secrets to keep, and this business Elena is mixed up in could blow his cover. But when Elena and Derek get together, more than chemicals spark fire-and they soon discover just how complicated attraction can get when they find themselves on the other side of the portal, fighting for survival. Lives collide, and allegiance and love are tested, in
Fates Divided
.
Excerpt:

She squirmed and bobbed giddily on top of him like a landlocked fish. "I have a boyfriend," she said in a singsong voice.

Derek grunted as a stray elbow landed on his ribs. He flipped her so she lay beneath him again. "How should we celebrate your first official relationship," he said in a deep, sexy voice, his hand snaking down her collarbone to the top of her breast.

She smiled slyly. "By holding hands?"

His palm stilled and he frowned, shaking his head.

He put his mouth on her neck and kissed and licked his way down. "Getting warmer," he murmured.

She tapped a finger to her mouth, trying not to move while his lips and hands made her face heat and her breath catch. "No hand-holding, but kissing is okay, yet not enough. What to do, what to do… I've got it. How about a heavy make-out session?"

"Warmer still," came his response from the general area of her bellybutton where he'd lifted her top a few inches and exposed her skin. His hands continued their wonderfully tormenting path down her torso to her hips.

She closed her eyes, breaths shaky and uneven as her stomach and thigh muscles clenched beneath his fingers. "Fine—you win." She reached down and yanked his T-shirt over his head.

He sat up as though affronted, his eyes sparkling. "Hey, I'm not that kind of guy."

She smiled. "You're a terrible liar. Is that drool on the side of your mouth?"

He raised his hand to his lip and grinned.



My Review:




Imagine waking up one day and the world as you know it has changed, but only for you. Who you thought you were was only a glimmer of truth and suddenly you are opened up to a new world with a new you. That's what happens to Elena in Fates Divided. On her 18th birthday her life changes drastically with the start of growing powers inside her body, and discovering that she's more than human, a halven, part fae, part human. In addition to this new self, Elena is also burdoned with a task from the fae, saving their very existence even if they don't particularly like her or halvens in general.




Getting tangled up with the fae, also causes another huge change in Elena's life, it sucks her neighbor, Derek, who's been hiding his own changes for awhile. When Derek finds out a little bit of what is going on, he's all in and wants to help Elena, to keep her safe.




Elena comes off as a shy but seriously smart young adult, sometimes she seems older than her 18 years, and sometimes younger. She's got a history, even before she discovers the truth of that past, so its easy to see why she behaves as she does. Elena's scientific prowess adds a lot to her character, the fact that she's been in love with science and studies it just really seemed to fit her once we discover her power is an affinity with elements essentially.




Derek is sweet and loyal from the start. He's worried for Elena and that's what causes him to be sucked into her problems, but ultimately its what was needed too I think. The two of them working together both scientifically and personally just works.




I enjoyed this start to a new series and look forward to what Jules will be bringing in future books. This book was packed with action, but also didn't let you down on the romantic end of things. There is just enough fantasy elements to keep you intriqued but nothing that would make you feel the story is unbelievable. With characters like Elena and Derek, and the interesting parts of fae and halven worlds, as the series builds, it's only going to get better.















About Jules Barnard
Before turning to storytelling, Jules earned a master's degree in public health and spent many an hour running statistical analysis–until she realized her favorite part of the job was writing reports. She decided to cut out the math and add in some hot guys, and so began her career as a novelist. Jules is a Northern California native living on the coast with her husband and two children. She has no impulse control around cupcakes and credits herself with the ability to read while running on the treadmill or burning dinner.