Sandra Walsh was a deadly sniper for the Sweet Briar Group, a covert agency with assassins for hire, until her last mission went horribly wrong, accidentally killing an innocent girl. Knowing she's a danger to her team, Sandra goes off the grid, becoming a Shade—an agent declared dead but secretly hiding among the living. She intends to honor her vow never to pull another trigger or have contact with the spy world again. Until she meets Casper Grady…
Grady is a former Marine with a troubled past and a debt to pay. His life mission has gone from protecting the nation to helping local children and their families. The moment he meets Sandra, he knows there's more to her than meets the eye, but he can't help but be drawn to the mysterious femme fatale. And when Sandra's past suddenly catches up to her, Grady is determined to protect her at all costs, no matter how dark and dangerous her secrets are. As the danger increases, so does their intense attraction. But when they're forced to choose between each other and the people they've sworn to protect, their growing love might not be enough to keep them together—or alive…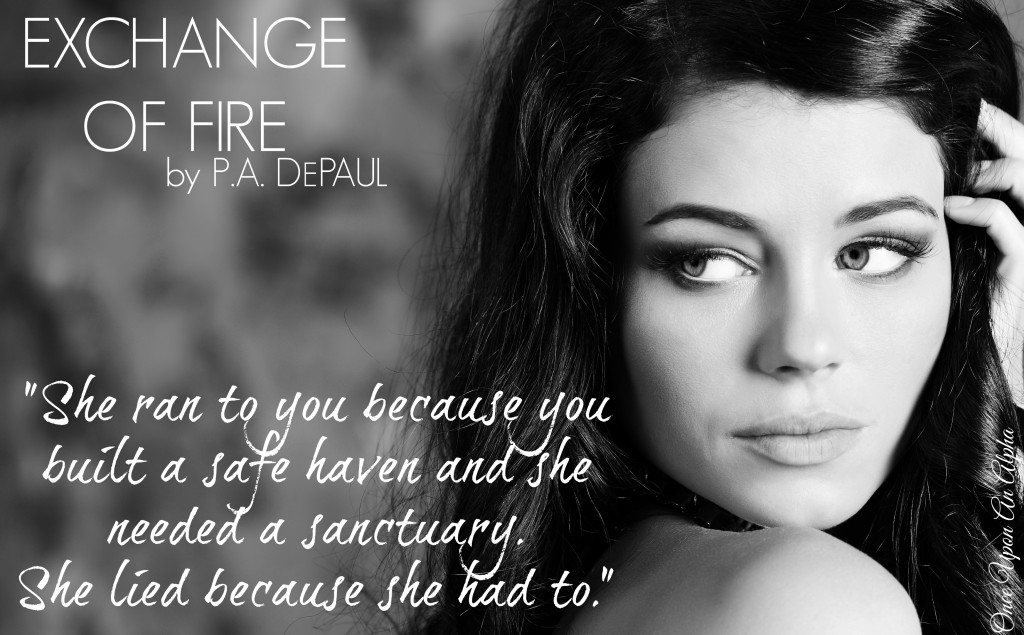 Grady had had enough of the bullshit. Too many people were dropping in, and he was tired of being the only one who didn't know the whole story. He needed to jump-start the explanations, and the best way to do that was to go for the throat. He lifted his chin and locked gazes with Cappy. He held up his fingers and started counting. "Cappy, Wraith, Talon, Romeo, Magician. Not your typical Christian names. Add to that Sandra's confession that she's a former sniper and Lethal Fuzzball Boy's acclamation of her world-famous skill before she 'died' and became Jesus with her resurrection . . . I'm going to go out on a limb and say you're the Commanding Officer of this clandestine team, right? Trained with them in Kansas and now lead everyone on missions? Tell me, does the company you work for start with a big C?" Cappy stiffened, and the reserved expression on his face eclipsed into a thundercloud. "What. The. Fuck?" "Here we go," Romeo muttered, but everyone heard due to the sudden silence at the man's bellow. Even the sun seemed to pause its ascent in the sky for a moment. "Someone had better start talking," Cappy demanded in his gruff voice. "And, yes, I mean you, Wraith." He spread his weight over his feet and slapped his hands on his hips. Sandra lifted her chin and met the CO's incensed stare. If her arm hadn't been touching his, he wouldn't have known that a tremor raced through her before she opened her mouth. "I made the decision to fill Grady in on details I thought he should know. Especially after an assassin took shots at his head earlier this evening." "Granger," Talon inserted, crossing his arms. Cappy's eyes flashed and his jaw hardened. He dipped his chin once as if to acknowledge Talon's contribution and began to pace. "So, despite the oaths you took, you decided to compromise this team by talking to an outsider?" "Yes." "And what else does he know?" Grady hated being talked around. "Not nearly enough," he stated bluntly, not caring that Sandra now gripped his arm as if to warn him to back off. Grady had this guy's number. He was completely lethal, no doubt, but he also seemed to be levelheaded and fair. Time to test that theory. "For example, why do you all act like Sandra's a ghost? Why would a confessed sniper be insinuating herself into my company as an Operations Manager? Why was a gunman shooting at us earlier? Why did Calvin and Hobbes here"—he pointed to Talon and Romeo—"decide it's better to break in than knock on the door?"
Exchange of Fire starts off with action, and doesn't let up. We start with a glimpse at Sandra's past in her role for the Sweet Briar Group or SBG as a sniper. We see how an op can go badly and how that can make someone see things a different way. In this case, causing Sandra to fade away from that life vowing never to be that person again.
Moving into the present, we see Sandra trying to live a normal life after the mess of her past. She's got a steady job, she has a reasonably nice relationship with her coworkers, and there's a mutual attraction between her boss, Grady and herself. But she's always on the ready that anything could go wrong and she's prepared to run. With contingency plans already set in place, when she gets the feeling its time to go, she aims to do just that, but what she didn't count on is her current boss not letting her leave alone.

I loved that Sandra was such a take charge, kick butt woman, you don't see females often enough in this line of work or type of book, its refreshing. I also enjoy watching the tough as nails independent woman, bow a little as she falls in love.


Exchange of Fire has everything needed to keep you enthralled, action, suspense, a bit of romance in between. There were also a few scenes that tugged on my emotions. Each page brought more to the story, and sucked you in not knowing what would be coming next and worrying over who to trust. Overall I enjoyed Grady and Sandra's tale and rooted for them to win! Rooted both for their relationship and against the baddies.
I look forward to more tales of the SBG group and the adventures they will bring.
P.A. DePaul is a multi-genre romance author including paranormal fantasy and romantic suspense. She originally hails from Carroll County and Baltimore County, Maryland, but also lived in Macon and Warner Robins, Georgia. She currently resides in a beautiful community just outside Philadelphia. Exchange of Fire is the first novel in the SBG series with the second novel, Shadow of Doubt, releasing April 2015